Stapp Interstate Toyota, Frederick CO
Brion Stapp, Dealer Principal of Stapp Interstate Toyota, was referred to IPOWER Alliance for hail protection and was interested in solar.  IPOWER Alliance had co-developed the VPS/IPOWER Solar integrated canopy solution the prior year and was ready to introduce it to the market.  
VPS and IPOWER Alliance designed an integrated solution that would cover 100% of their inventory, 100% of their energy use, and provide improved operations at an 18% internal rate of return.  
Stapp Interstate Toyota was the first auto dealership to install the VPS/IPOWER Solar Canopy solution.
291.6 kW Solar-Integrated Hail Canopies
53,000+ square feet of shade and hail protection canopies, covering 335 cars.
720, 405-watt bi-facial solar panels, generating power from the front and back of each panel.
Project will produce over 375,000 kWh of solar energy per year, providing 100% of the dealership's power.
Complete LED retrofit, improving light quality and reducing energy use in the facility by 45%.
State-of-the-art building controls to manage the building's heating and cooling with the solar, to maximize savings and maintain comfort.

AutoDash monitoring software with system oversight services.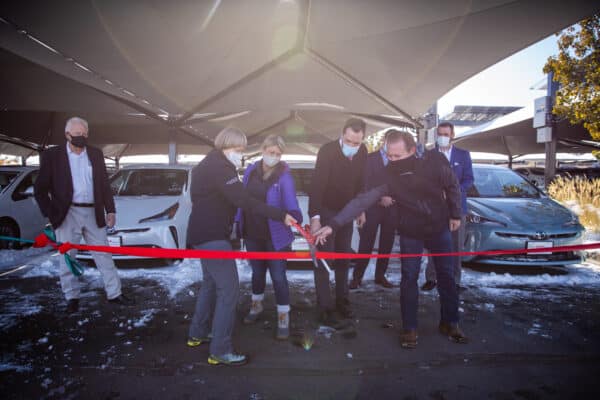 Ribbon cutting: In the photo is Tim Jackson (Director of CADA), Diane Dandeneau (CEO IPOWER Alliance), Tracy Crites (Mayor of Frederick CO), Brion Stapp (Dealer Principal Stapp Interstate Toyota) and Wade White (Sr. VP VPS). Also Jayson Crouch (Toyota Financial Services) and Ben Pyle (Toyota Motor North America).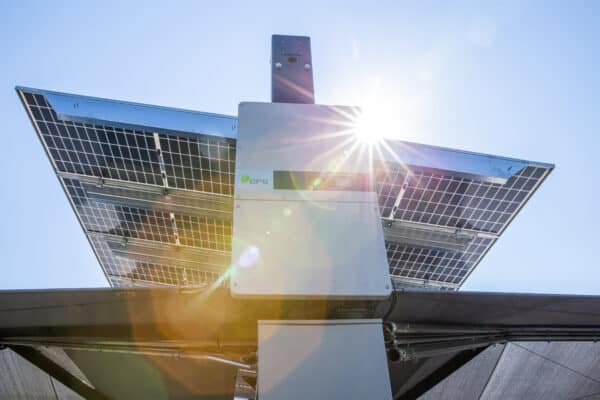 VPS Hail Canopies
VPS is the leader in hail protection for vehicles in north america.  IPOWER and VPS, partnered on creating the VPS/IPOWER solar integrated hail canopy solution.  Together, we were able to meet the needs of this customer in a cost effective manner, right sizing the coverage with the right amount of solar.  
LED's
IPOWER Alliance installed a complete LED retrofit that reduced their energy consumption by 45%.  This allowed us to reduce the amount of solar needed to provide 100% of their energy use.  With this, we could move them to a more beneficial energy rate as well as provide improved lighting for the dealership.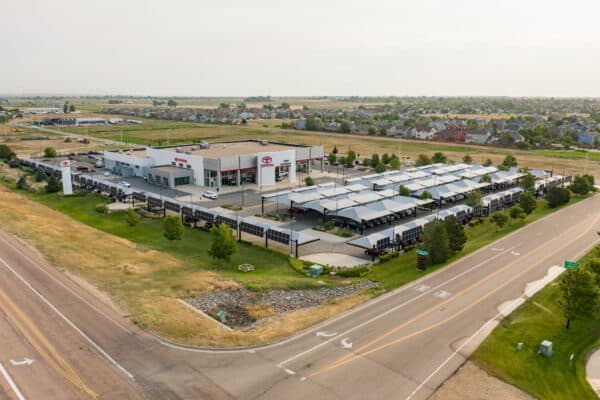 Bifacial Solar Panels
The VPS/IPOWER solar integrated canopies utilize bifacial solar panels in order to maximize the energy production.  Bifacial panels can produce power from both sides of the panels from direct and reflected light.  This way the canopies are part of the energy production by reflecting light on to the back of the panels.  Another unique design aspect to the system are the vertical panels.  This design started with setback limitations, but then showed a very interesting benefit by achieving significant energy gains on the back side that actually provides more power when we need it - early in the morning and late in the afternoon, reducing demand charges.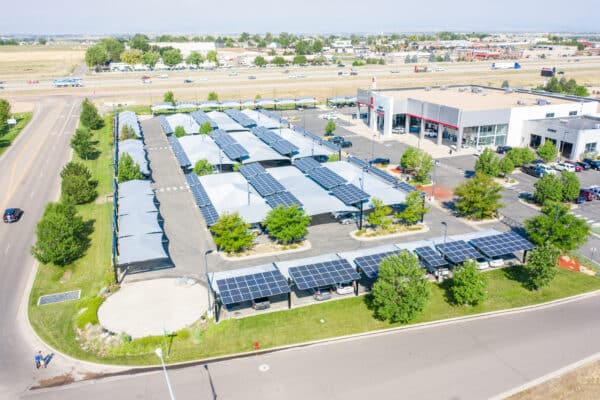 Advanced Building Controls
IPOWER Alliance has partnered with Extensible Energy to install advanced building controls.  These controls provide year round energy savings by intelligently managing the HVAC and other systems to eliminate waste and utilize solar to reduce demand charges. These systems can cut demand by as much as 20%, without compromising comfort.
'This has been the most enjoyable car buying experience I've ever had.'
A customer comment referring to the cool, covered parking lot and vehicles."
 -- Clint Stapp, General Manager, Stapp Toyota. 
See more project details on the Interstate Toyota website.